Time is short!
The legislature will vote soon on Gov. Walker's proposed budget, which includes devastating cuts to programs for the disabled, elderly and schoolchildren.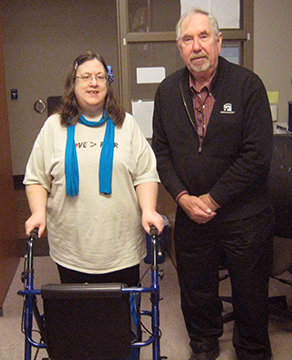 Just ask Lanette Davidson and Fred Knueppel (pictured here) how those cuts will affect programs that help them live independently. 
The Walker budget would eliminate those programs entirely, forcing many elderly and persons with disabilities into nursing homes, which cost more and do less.
But the budget hits young and old alike, including our school children, with cuts in state aid to our public schools that amount to $150 per student.
That's why we're asking you to come to a public forum at 6 p.m. Friday, April 17, in the Wauwatosa City Hall Auditorium. There's still time to tell our lawmakers — including State Rep. Dale Kooyenga, who has agreed to be there —what we think of those cuts. (Wauwatosa's other state legislators, Sen. Leah Vukmir and Rep. Rob Hutton, have also been invited, but have not indicated yet whether they will attend.)
Sponsored by the City of Wauwatosa Committee for Citizens with Disabilities and Grassroots Tosa, the hearing will include presentations on the budget's impact on the elderly and persons with disabilities by:
Stephanie Sue Stein
director of the Milwaukee County Dept. on the Aging
Barbara Beckert
of Disability Rights Wisconsin
Speaking on the budget's drastic cuts to our public schools will be:
Shawn Rolland
of Support Our Schools, SOS Wauwatosa 
Dennis McBride
Wauwatosa Alderman
Mark your calendars for …
6 p.m. Friday, April 17, Wauwatosa City Hall Auditorium
… so you can tell our lawmakers you're behind Fred and Lanette in their struggle to protect and defend their rights.
WHEN
April 17, 2015 at 6:00pm - 8pm
CONTACT
Greg Walz-Chojnacki · · 414-475-0260